Giving Tuesday campaign sets record!
Our fans, supporters and new donors set a record for our VIUGives campaign making more than 330 gifts this year! On behalf of the students at VIU, we thank you for helping us raise more than $154,000 as part of our Giving Tuesday campaign!
With matching gifts from the VIU Foundation, VIU students and faculty will benefit from more than $250,000 to fund student awards, projects, experiences, equipment and teaching tools.
Thank you for your amazing support!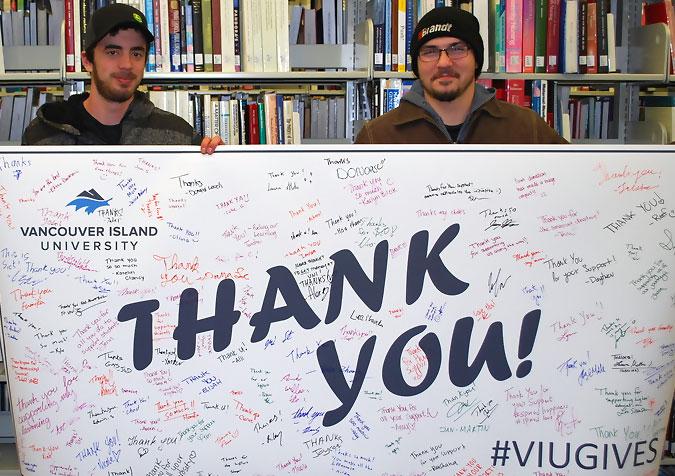 ---
TLA and Chevron Award Scholarship for Heavy Equipment Operator Students
January 15, 2016, Vancouver –Minister Thomson congratulated the winners of two scholarships from Vancouver Island University's Heavy Equipment Operator Program at the Minister of Forests Breakfast during the TLA's 73rd Annual Convention & Trade Show.
"I commend Shane and Linden for continuing family traditions and pursuing careers in the forest industry. Over the next few years, more jobs will continue to open up and I encourage all young people to consider working in the woods," said Thomson.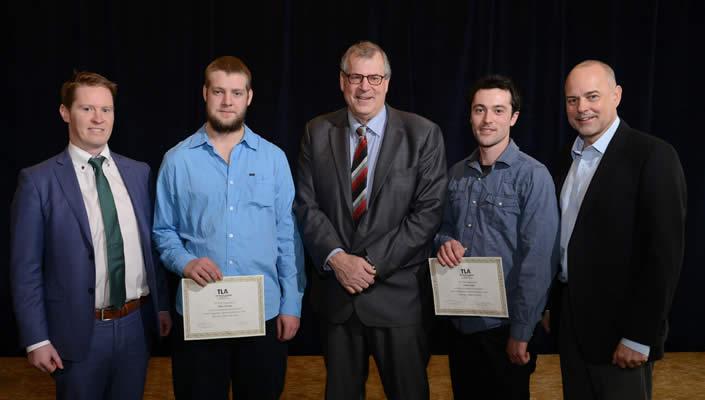 This year's scholarship winners, Shane Wiersma and Linden Feniak, both plan to work in the forest industry when they graduate. They both grew up in the industry too—Wiersma's grandfather was a logging camp medic and Feniak's dad was a tug boat operator.
The two $5,000 scholarships, created last year, are jointly funded by The Truck Loggers Association and Chevron Canada. "The forestry industry is an economic driver in this province" said Adrien Byrne, Chevron's policy, government and public affairs representative. "Chevron is proud to support the BC government's and forest industry's educational agenda through this scholarship."
"The forest industry needs heavy equipment operators. So this is an excellent fit for the TLA's Forestry Education Fund," said David Elstone, TLA Executive Director. "The TLA believes in building the forest industry from the ground up and each year we invest $80,000+ in forestry education and scholarships through the TLA Forestry Education Fund, generously founded and supported by TLA members."
The TLA (Truck Loggers Association) represents over 440 independent forest contractors and their suppliers operating on the coast of British Columbia. Our membership supports thousands of workers and, along with other independent contractors, accounts for close to 90 per cent of the trees harvested on the coast. The TLA promotes a thriving, sustainable coastal forest industry in BC.
---

Raise a Whale - Inspire Generations
Thank you to all of the donors that have made our Grey Whale project a success! There was a tremendous response to the campaign and all of the bones have now been purchased. The bones are currently being cleaned in preparation for their display as an innovative and engaging public exhibit at the Deep Bay Marine Field Station. For updates on the campaign please visit the Deep Bay blog at www.viudeepbay.com. 
In April 2010 a ten metre long 20 tonne grey whale washed up on the beach in Sooke, at the south end of Vancouver Island. Concerned that it was being treated with disrespect, the Scia'new Nation sought to bury it on their land, in the hope that in the future it could be used respectfully to serve an educational purpose.
After three years of natural decomposition, the whale carcass was exhumed. Today the work continues to prepare it for display as a highlight of the Deep Bay Marine Field Station's education program, and inspire and educate for decades to come.
---
VIU Alumni, Family & Friends Annual Giving
Every Gift Makes a Difference. Every Gift can Change a Life. Give Now.
Annual gifts allow Vancouver Island University to provide much needed financial assistance to students pursuing their post-secondary education. Your gift has immediate and meaningful impact on our students, and allows many to remain in school and achieve their goals. Every gift counts. Make yours today.
Here's what other students are saying about donor support:
".. As someone working part time through-out the school year to minimize the costs of university, this scholarship comes as a huge help. Your donation allows me to pursue my musical passions with more time and focus, while worrying less about the burdens of tuition costs and student debt."
"… I am humbled to have received this award and very grateful; I have overcome many obstacles so that I was finally able to go back to school, and it means so much to me that I have one less thing to think of."
Alumni & Friends Giving
Each year students struggle to meet the financial demands of university. As alumni, you know how hard it can be. Now is your chance to give back and help struggling students cope with the costs of their education. Give a one-time gift or pledge monthly.
Faculty and Staff Giving
University employees can contribute on a monthly basis to almost any area of the university through a payroll deduction. Employees are also able to support students through a bi-weekly 50/50 draw where half of the proceeds provide awards to students of $1,000.
Ways of Giving
VIU has multiple ways of giving from scholarships, awards and bursary programs to endowed, planned, major, and non-cash gifts. Please view our Ways of Giving for details on how your gift can be made. You can also make a Gift Now.
Thank you to our Alumni, Family & Friends!
Without our donors, the lives of VIU students would be very different. Thank you to the many donors who helped award over 1,650 scholarships valued at over $1,450,000 to support VIU students in 2014-2015.