There are many ways you can make a gift to VIU for today or tomorrow.
Give Online
Alumni, Family & Friends can give online using a credit. Cards accepted for donations are VISA, MasterCard, American Express and Discover. To make an online donation, please fill out the one-time gift form or monthly donation form.
By phone
Call the Advancement & Alumni Relations Office at 250-740-6216.
By mail
Send your donation form and cheque made payable to the VIU Foundation to:
Advancement & Alumni Relations Office
900 Fifth Street, Building 310
Nanaimo, BC
V9R 5S5
Payroll Deduction VIU employees 
University employees can contribute on a monthly basis to almost any area of the university through a payroll deduction. Once an employee enrolls to make a gift via payroll deduction, funds are automatically deducted from the monthly paycheck and credited into the receiving account. Sign up for payroll deduction
McLotto for VIU employees
VIU staff may support students through the bi-weekly 50-50 draw.  Half of the proceeds go to the VIU Staff Award Fund which provides awards to students of $1,000, and the other half is a prize to the employee who wins the draw. Currently the prize averages $1,200 each payday. McLotto is licensed by the BC Gaming Commission.

Sign up for McLotto.
Annual Pledges
Donors may pledge a total amount payable annually over a number of years. Ideally, annual pledges are made up to five years. We ensure that you get an annual reminder at a pre-determined time, confirm that your annual pledge is going to the purpose you intend and issue your tax receipt promptly. Annual pledge payments may be in the form of cash, credit, or debit card charges, wire or securities transfers.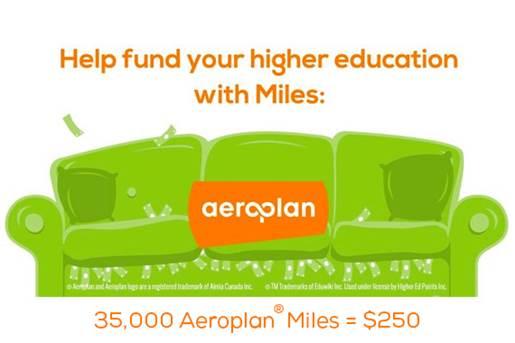 New VIU Program Converts Aeroplan Miles to Help Students Fund Tuition
Students enrolled at Vancouver Island University (VIU) now have a new way to help pay for their education. Through a new partnership with HigherEdPoints, students and their families and friends will now be able to convert Aeroplan Miles into funds that can be used to pay tuition fees at VIU.
For every 35,000 Aeroplan Miles, a $250 credit can be transferred to VIU to cover fees, including tuition. Students can 'crowdsource' donations of Aeroplan Miles from family and friends that can be dedicated towards their tuition at VIU. Anyone with Aeroplan Miles can donate them to any student registered at VIU, or direct their Aeroplan Miles to support VIU and students in need.
Details on how the process works and to start your donation can be found at HigherEdPoints.com
If you are interested in making an annual pledge, please contact Susie Caswell, Advancement & Alumni Relations Office, Gift Planning and Donor Relations at susie.caswell@viu.ca or at 250-740-6216.
For more information on ways to give please contact Jason Coates, Advancement & Alumni Relations Office, Major Gifts & Legacies at jason.coates@viu.ca or at 250-740-6258.