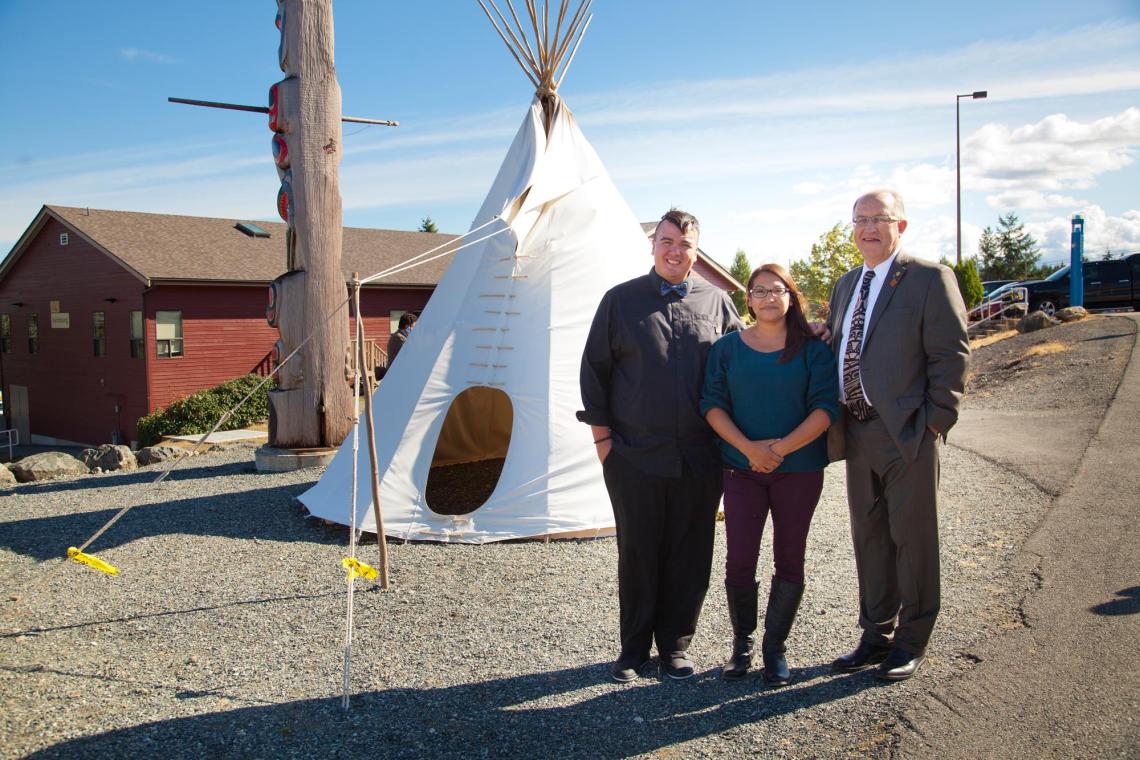 In the spirit of reconciliation, a new learning partnership for Indigenous youth was announced today at Vancouver Island University (VIU). Building from the guidance of Elders and the aspirations of Indigenous youth, VIU will join Yukon College in a collaboration supported by the Rideau Hall Foundation and Mastercard Foundation that creates opportunities for Indigenous learners to be full partners in their education.
Through a model of co-creation and collaboration, VIU and Yukon College have been instrumental in the design and development of a learning partnership whose total value is $50 million. This partnership amplifies existing in-kind and financial contributions from government, the private sector, Indigenous communities and the two higher educational institutions, bringing in new support from the Mastercard Foundation and Rideau Hall Foundation.
At VIU, $13.5 million in new funding will remove barriers for Indigenous learners. Through an innovative match approach, new financial support will double the number of students that partner First Nations are supporting to pursue post-secondary education resulting in 500 Indigenous students completing their programs of study. In addition, wrap-around supports will include dedicated Education Navigators who work on campuses and in communities helping Indigenous youth access pathways to postsecondary education. Enhanced services will support over 1,800 Indigenous students with on-campus and community services and inspire youth from Qeq (toddler) through to high school, leading to improved retention and graduation rates.
At Yukon College, new resources will allow current students as well as more than 300 additional Indigenous students achieve their education and life goals over the same five years. Additional funding has been earmarked to share and expand learning across the country.
"For me, as an Elder, this is an exciting partnership. We have people that are doing well, but many are not. With this learning partnership, we are providing additional support to reach deeper into the communities to young people we don't usually see, but who need someone to believe in them," explains Xulsimalt – Gary Manson, an Elder-in-Residence at VIU and member of Snuneymuxw First Nation. "The poverty we have had to deal with impacts urban communities, but more so in rural communities where there are less resources and it is difficult to find employment. How do we tackle both? This opportunity will help. And, for me, it is about healing, which is a long time in coming. This is a start to creating more hope rather than hopelessness."
Catherine Joe, VIU anthropology student and member of the Su'luqw'a' Community Cousins Aboriginal student mentorship program added: "When Tasha, the Indigenous Education Navigator at VIU's Cowichan Campus, said to me that not only would she help me get funding to finish my Bachelor of Arts, but that I would also get help for the next year to complete my math and my Bachelor of Education, I almost started crying. Without this support and initiative I wouldn't be able to meet my original end goal, which was to work with and inspire our children and our youth as they are our future."
Dr. Ralph Nilson, VIU President and Vice-Chancellor said this learning partnership is life-changing work.
"Through this learning partnership, we will build on the existing relationships we have with First Nations in our regions and deepen our partnerships, working collaboratively with communities to ensure Indigenous students have access to relevant and positive postsecondary education; that they are supported throughout their experience; and that they have the skills and abilities to transition," he said. "We look forward to continuing to engage in and support this critical life-changing work through this partnership."
The inclusive approach underpinning this learning partnership means that all of VIU's Indigenous students will benefit from expanded support services on campus and within local communities. Over the next five years, VIU will expand and fine-tune its extensive efforts to interact with the communities it serves and enhance educational opportunities for Indigenous youth. VIU already offers a range of initiatives and wrap-around supports to encourage successful postsecondary education for these young people, including outreach workers, student mentors, campus Elders, tuition supplements and other services.
"Education is a critical aspect of reconciliation. The Rideau Hall Foundation is thrilled to be the managing partner for this innovative and collaborative partnership to improve educational outcomes for Indigenous learners," said Scott Haldane, President and CEO of the Rideau Hall Foundation.
"Reconciliation begins with listening and building trust," said Reeta Roy, President and CEO of the Mastercard Foundation. "This collaboration is rooted in the education and cultural vision Indigenous youth, Elders, educators and families hold for themselves, and creates an opportunity for communities to be at the forefront of trail breaking advancements in education and learning."
-30-
Media contact:
Dale Steeves
dsteeves@lbmg.ca
778.875.3521
Vancouver Island University
Known as a centre of excellence for teaching, applied research and learning, Vancouver Island University (VIU) offers programs that include graduate and undergraduate degrees, vocational programs and trades, as well as access programs. With roots that date back to 1936, VIU is today a dynamic, internationally known university supporting a student population of 16,000 learners, including 1,900 international students and 2,000 Indigenous students. VIU is deeply connected to coastal and First Nations communities and works closely with those communities to create a supportive, culturally relevant learning environment for Indigenous learners – this is one of the University's core values. As well, VIU is focused on providing access to quality post-secondary education for non-traditional learners who face a variety of barriers. For example, in 2013, VIU became the first BC post-secondary institution to offer a tuition waiver program for former youth in care. Learn how you can matter here at: VIU.
Yukon College
Yukon College is grounded in northern expertise and strong partnerships with the 14 Yukon First Nations. With over 50 programs, including undergraduate degrees, trades and vocational training and post-secondary access programs, Yukon's only post-secondary institution offers a pathway for every learner. The future home of Yukon University is a leader in education on Indigenous self-determination, climate change impacts and sustainable resource development. Yukon College's 13 campuses contribute to the development of a healthy and prosperous north through relevant, innovative, inclusive education and applied research. To learn more visit Yukon College.
Rideau Hall Foundation
The Rideau Hall Foundation was established to amplify and extend the reach of the Office of Governor General in its goals to connect, honour and inspire Canadians. Signature programs fall within four programmatic areas: learning, leadership, innovation, and giving. We work with partners on initiatives that strengthen our national identity, build capacity and promote the advancement of a smart and caring nation. To learn more visit Rideau Hall Foundation.
Mastercard Foundation
The Mastercard Foundation works with visionary organizations to provide greater access to education, skills training and financial services for people living in poverty, primarily in Africa. As one of the largest private foundations, its work is guided by its mission to advance learning and promote financial inclusion to create an inclusive and equitable world. Based in Toronto, Canada, its independence was established by Mastercard when the Mastercard Foundation was created in 2006. For more information and to sign up for the Foundation's newsletter, please visit Mastercard Foundation. Follow the Foundation at @MastercardFdn on Twitter.