VIU Students' Careers Bloom Thanks to Long-Standing Partnership Between NHS and VIU!

Past Nanaimo Horticultural Society Scholarship winners from L to R: Graham Vanderhoek (2015), Geoff Ball (1995), Jennifer Forest (2004), Bruce Chic (2002), VIU Foundation Director, William Litchfield and NHS President Karen Hovestad
Nanaimo, BC (March 10, 2016): The curses of owning a heritage orchard, what the upcoming season may bring in new plants and old diseases, and challenges and choices faced in building a career in horticulture. These were among the topics discussed by three expert Nanaimo Horticultural Society (NHS) scholarship-winning graduates of Vancouver Island University's (VIU) Horticulture Program at the grand celebration held in recognition of the 70th Anniversary of the NHS. Panelists Geoff Ball, Executive Director at Milner Gardens & Woodland, Bruce Chic, Nursery Associate at Art Knapp Plantland and Jennifer Forrest, Past President of Ladysmith-Saltair Garden Club kicked-off the celebration with a panel discussion on "Gardening Trends, Tips and Traps" followed by a special anniversary gift presentation to the VIU Foundation.
Over 65 NHS members and Mid-Island residents attended the 70th anniversary celebration of the NHS and commemorated the partnership with VIU. The society presented a special anniversary gift of $750 to fund the 2016 Nanaimo Horticultural Society Scholarship.
"We are celebrating 70 years of growing with Nanaimo," said NHS President Karen Hovestad. "We have watched the careers of tonight's panelists, who are all past NHS Scholarship recipients and VIU Horticulture Program alumni blossom and we are thrilled to help plant the seed for the future success of this year's scholarship recipient."
The annual scholarship is available to an academically strong, full-time student in VIU's Horticultural Technician program who will be continuing their studies in the horticultural field. The recipient of this year's scholarship will be selected in May.
"Receiving the (NHS) scholarship back in 1995 was an honour and a big financial helper," said Ball. "Being recognized in that way solidified that I was on the right career path and things have come full circle for me working at Milner Gardens."
"The VIU Foundation exists because of community partnerships such as the one shared by NHS and VIU. To have local support from the Nanaimo Horticulture Society for 29 years is amazing and for them to make VIU a part of their 70th anniversary is an honour and a privilege," said VIU Foundation Director, William Litchfield.
About the Nanaimo Horticultural Society:
Established in 1946, the Nanaimo Horticultural Society (NHS) celebrates its 70th Anniversary this year. With a current membership of 150, the society brings together local gardeners of all experience levels and has grown a variety of club events to include: Garden bus tours, Gardening forums and workshops, The Parlour Show, and the Annual Spring Plant Show.
---
Ryan Cathers Memorial Endowment Fund Receives Donation from VIU Biology Club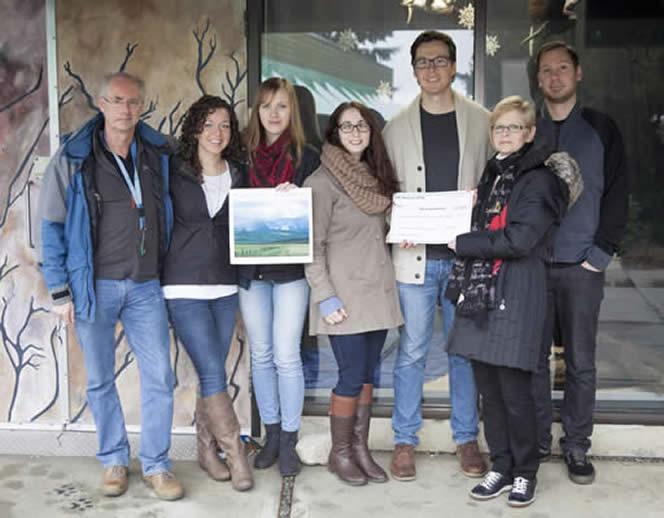 Biology Club members from L to R: Tim Goater, Christine Holt, Hailey Hudson, Sarah Chalmers, Clayton Burgoyne, Susie Caswell (VIU Foundation), Mike Lockhart
The Vancouver Island University (VIU) Foundation received a cheque for $2,308 on Friday, February 18th. Funds were raised by the VIU Biology Club at a Beer and Burger/silent auction fundraiser event, and will help to continue the Ryan Cathers Memorial Scholarship.
This endowment remembers and honours an outstanding student, special friend, community volunteer, and an exceptional ornithologist – Ryan Cathers.  Ryan was a Bachelor of Science student from 2010-2014, majoring in Biology and specializing in ecological sciences. He had finished his third year and was enjoying his dream summer job at the Lesser Slave Lake Bird Observatory in Alberta, conducting research on his beloved birds. Tragically, Ryan passed away in a motor vehicle accident on May 17, 2014. 
Ryan was one of the most active volunteers with the VIU bird banding project, and a leader in Nanaimo's birding community. He was always keen to learn, with a positive outlook and a wonderful sense of humour. This annual scholarship is awarded to a 3rd or 4th year VIU Biology or Natural Resource Protection student, with career goals or interest in ecology and natural history, including ornithology. In addition, the award recognizes community/university volunteer excellence, and a student who shares Ryan's passion and curiosity for natural history. "Ryan was an astute student of everything related to nature and especially birds, and his enthusiasm touched many of his VIU student peers and teachers. This award is a great tribute to his love of nature" shared Eric Demers, Ryan's ornithology mentor and friend.
The Ryan Cathers Memorial Endowment Fund was established in 2014 and has already raised a total of over $25,000, funded its first scholarship to Biology student, Elsie Hampshire, in 2015, and will continue to support students in perpetuity. Tim Goater, one of Ryan's professors in the VIU Biology Department, says "we are all so proud that we can keep our special friend Ryan's memory alive through this annual scholarship".  For more information or to make a donation, please contact the VIU Scholarships, Award & Bursaries Officer at 250.740.6210.
---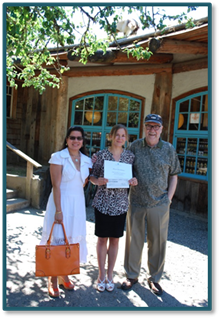 On June 30, 2015 Pieter de Reuver and Salud Espiritu presented Alicyn Fleischmann with the Pieter de Reuver Foundation Award of Excellence in the amount of $5,000.  Alicyn won this award for her commitment to society, community work, volunteerism, and personal growth through finding and developing new skills.  Alicyn is currently enrolled in the Bachelor of Science and nursing program.
Picture: (L-R) Salud Espiritu, Alicyn Fleischmann, Pieter de Reuver
---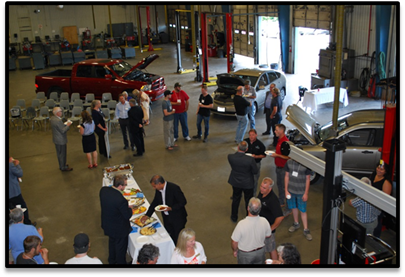 Thank you to all those donors, students, and faculty who made the June 17, 2015 Trades Tour and Donor Reception such a success.  It is always wonderful to see donors connected with the students they support!