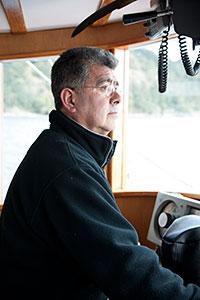 Arthur Vickers, artist of the
Ceremonial Convocation Suite
Arthur Vickers is in the forefront of contemporary First Nations artists who  draw inspiration from their history and heritage within the milieu of 21st century cultural influences. In a highly distinctive and personal method, Vickers transforms traditional designs into modern works of art that are eagerly sought by serious collectors around the world.
Born in British Columbia, Vickers spent his early childhood years in the coastal Tsimshian village of Kitkatla. Vickers' mother was of English and Canadian heritage and his father was of Heiltsuk, Tsimshian and Haida First Nations ancestry. This blend of cultural influences provides the artist with unique insight and passion that express themselves in each of his works.
In recognition of his art, his many contributions to charities and his role in sustaining First Nations heritage, Vickers received an Honorary Doctorate of Fine Arts from the University of Victoria in 2006. In 2008 he received the Order of British Columbia followed by a Distinguished Alumni award from Camosun College in 2010.
Vickers is accomplished in many media, from drawing and carving to painting and printmaking. His handcrafted, multi-layered, low relief sculpting in 24k gold leaf is a unique method, which he developed. Sculptural works in gold, glass, granite and wood are refined originals demonstrating the highest levels of artistry and artistic vision – a vision described as visual poetry. For Vickers, art is a means of storytelling, and through his artist's voice, he unlocks the magic and mystery of his heritage and of some of the world's most stunning landscapes and coastlines.
Beyond his significant collection of gallery pieces, other major works include the design and construction of the Eagle Aerie Gallery in Tofino, British Columbia and the creation of the "Leadership Desk," which now resides in the Office of the Lieutenant Governor of British Columbia.
Today, Vickers lives in the seaside village of Cowichan Bay – the  perfect backdrop for many of his inspired works of art.
---
What others have said about Arthur Vickers
"Art Vickers has made tremendous contributions and gifts to this community and his work is absolutely stunning. He is a wonderful human being, very passionate and giving. His work is a paramount example of the art and tradition of his people, and he creates it for both his people and his country. It's something we can all be proud of, nationally and internationally. "  
The Late Honourable Dermod Owen-Flood, former BC Supreme Court Justice and art collector.
 "Vickers' work is extraordinarily sensitive to the traditions of the northwest, highly distinctive and totally impressive. His technique is incredible, deeply refined and highly unusual, yet his technology is contemporary and individualistic. After spending 45 years at Sotheby's, you recognize quality when you see it."  
Hugh Hildelsey, Executive Vice-president of Sotheby's North and South America.