What is Program Borealis?
Program Borealis is a program of projects that will refresh and renew Vancouver Island University's (VIU) Information Technology (IT) Operations Infrastructure Systems and processes.  Borealis will change and enhance VIU's ability to deliver in many significant areas, and ultimately enhance the student experience. Borealis will not only address the required remediation, but also take advantage of VIU's unique position to think differently and leap frog technologies where possible.
Project Borealis includes eight strategic initiatives; each one is considered a dedicated project.
People
Physical Plant Remediation (Project Eclipse)
Network Remediation (NRP)
Server Remediation
Cloud Strategy
Service Delivery Strategy
Effective IT Governance
VIU IT Operations includes all implementation, support, maintenance, and lifecycle of foundational IT infrastructure including the VIU Data Network, Server Infrastructure, End User Device Support, Service/Help Desk, and Web Management.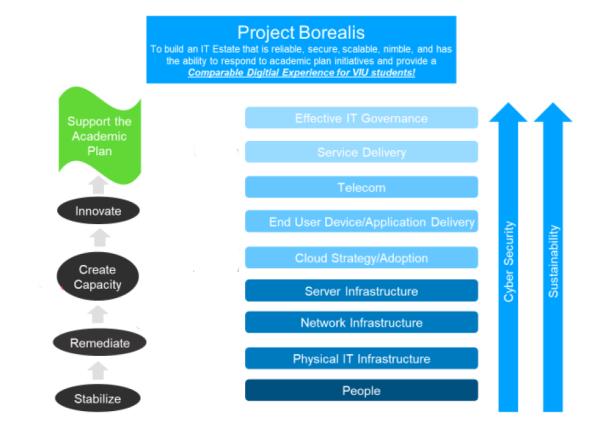 Program Borealis will take a foundational approach to the complete remediation of IT Operations Service Delivery at VIU. The approach will start with investment and focus on the long term success and engagement of the people who will deliver the vast majority of the projects with Borealis, the IT staff. Next, a bottom up approach will be taken to addressing the severe remediation requirements starting at physical IT infrastructure, Network, Server, End User Device, then moving on to cloud strategy, service delivery, and IT governance. Program Borealis is expected to run from 2018 through 2025, but timing relies greatly on funding availability.