Addressing Discrimination and Harassment Based on Sexual Orientation and Gender Identity
The Positive Space Alliance seeks to raise awareness of diversity in sexual orientation and gender identity and to challenge the patterns of silence that continue to marginalize these communities.
Positive Space promotes the creation of a space defined by equality, free from discrimination and hate. It is a public proclamation of support and affirmation of two-spirit, lesbian, gay, bisexual, transgender, and queer/questioning (2SLGBTQ+) members of our community, making the campus a more welcoming place for all.
Displaying a Positive Space symbol expresses your commitment to speaking out against the marginalization of individuals through homophobia, heterosexism, and gender identity oppression.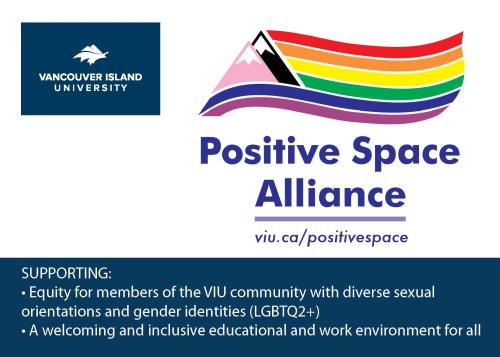 Rainbow Stairs at VIU Nanaimo
The VIU Positive Space Alliance is proud to have partnered with the VIU Administration, VIU Students Union, and VIU Residence Life to create a visible show of support for 2SLGBTQ+ individuals on campus. The stairs are located by building 300 on the Nanaimo campus.
The Rainbow Flag, created in 1978 for San Francisco's Gay Freedom Celebration, depicts the colours of the rainbow in horizontal stripes. This flag, which has become a universal emblem for unity within diversity (or diversity within unity), remains a powerful symbol of pride within the 2SLGBTQ+ communities.