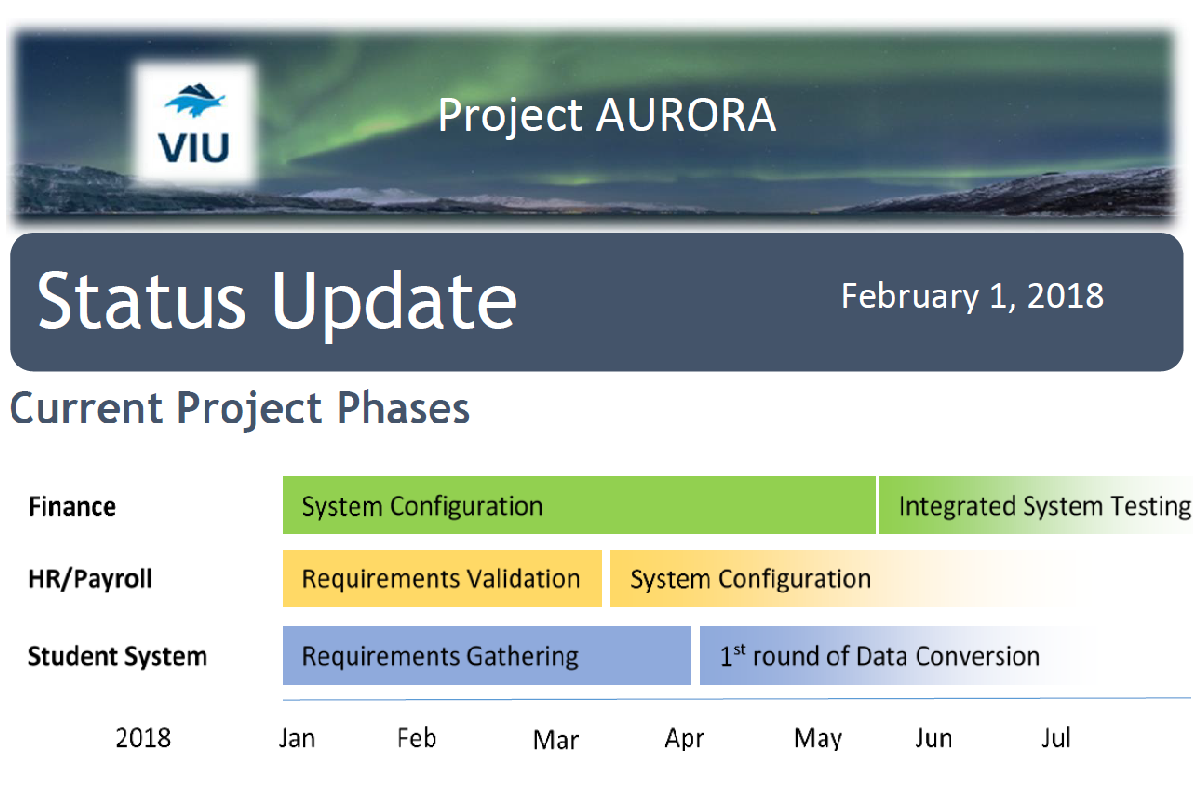 Finance
System configuration has begun for the Finance system, which includes the redesign of the Chart of Accounts structure.  Consultation meetings will be arranged with areas once the initial configuration draft is complete so that individual requirements can be discussed.
Human Resources/Payroll
The HR/Payroll Project Team will soon be validating the requirements documents that describe how the new system will be configured to function based on VIU's needs.  The team is also starting to identify procedural/process changes that will be required, and we will be sending more information to the VIU community as these changes become more clearly defined.
Student Management
The first phase of implementation for the student system has just begun, which involves enduring that Unit4 understands VIU's business processes and requirements in areas such as Admissions, Curriculum Management, Financial Aid, Student Reporting, etc.
Overall Schedule
We are still working to map out the schedule for the entire project including the testing and end-user training phases.  Go-live dates are still being determined for each of the above systems.
The Road Ahead:
The AURORA Project Team works as the liaison between the VIU community and the software vendor, Unit4.  As we progress through the project, team members will be reaching out to consult with subject matter experts in impacted departments and will in turn share information with Unit4.
When discussing requirements for the new systems it is important to keep in mind that VIU's use of the new systems will be a continuous evolution.  We will prioritize mission-critical functionality for go-live, and recognize that additional functionality may be incorporated later.  The Unit4 systems will ultimately reduce the risks associated with our legacy systems and provide VIU with a more robust toolset that will allow us to continue to improve processes going forward.