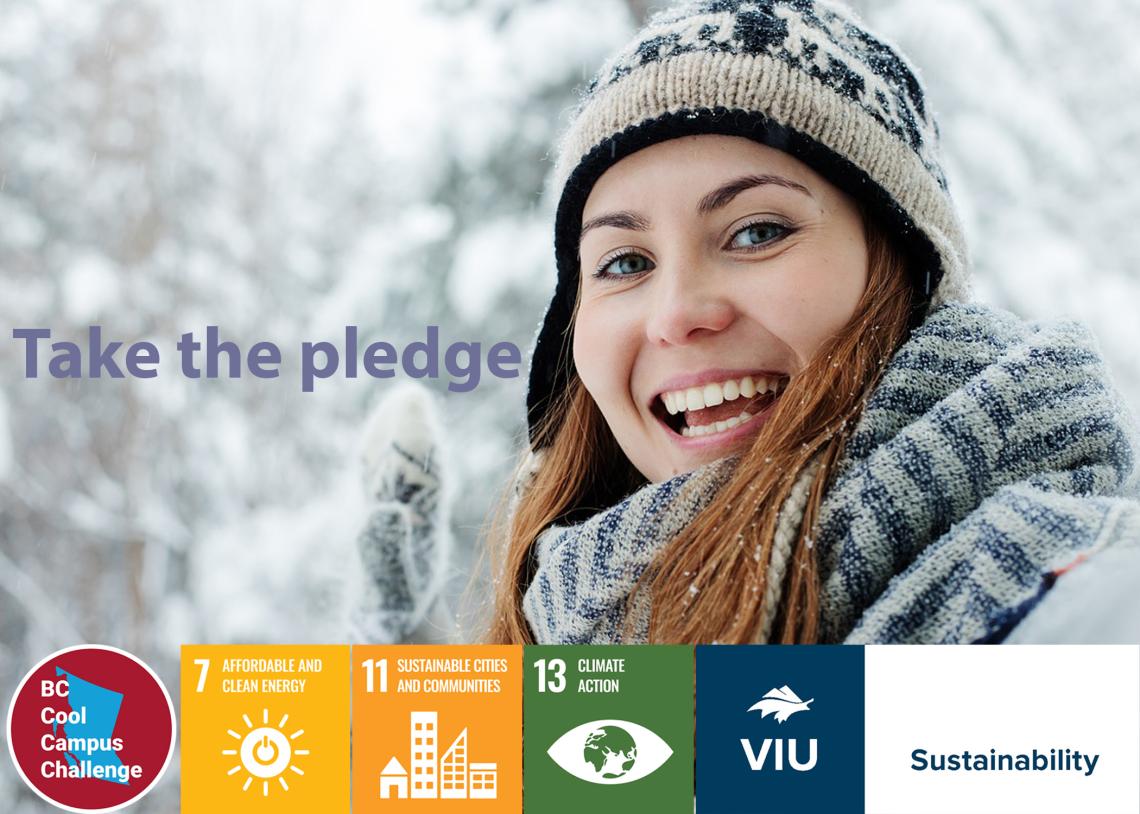 Take the Pledge!
VIU Cool Campus 20 
Survey ends on Sunday, March 1 
VIU is part of this year's BC Cool Campus Challenge, a fun and friendly initiative between BC universities and colleges to actively reduce natural gas use this winter season.
VIU, Selkirk College, Simon Fraser University, and Thompson Rivers University are challenging each other to reduce natural gas use and encourage campus community members to take energy conservation actions by signing the Cool Campus Pledge. By reducing natural gas use, we can all help reduce our climate impact and demonstrate climate activism.
Why are post-secondary institutions leading this challenge?
The BC Cool Campus Challenge originated as a response to the October 2018 pipeline explosion and subsequent provincial natural gas shortage. This challenge is being continued this year and is an example of how post-secondary institutions and large communities can collaborate to address energy use.
Natural gas is a limited and uncertain non-renewable resource. The purpose of this challenge is to encourage action as well as to start a conversation on energy dependency and resiliency.
How will the winner of the BC Cool Campus Challenge be decided? 
The winner of the BC Cool Campus Challenge will be the institution that collects the highest percentage of online energy-saving pledges from the total of their campus community of students, employees, and faculty between January 6 and March 2.
 The winning institution will get
A branded sweater or warm clothing item from each of the other participating institutions.
The winning team will donate, on behalf of the participating institutions, all the warm clothing items to a local charitable organization to keep more people warm this heating season.
Bragging rights as the coolest campus in BC!
Selkirk was the winner in 2019. Help us make it VIU in 2020!
Why are these actions being encouraged?
Simple actions like turning down the heat, wearing warmer clothing, taking shorter showers, and washing clothes in cold water all help to reduce natural gas use and lower our carbon footprint. You may have some of your own ideas on how to use natural gas.
The Pledge
Those who want to participate in the Challenge will be asked to take this online pledge
"I pledge to reduce my energy use in my home and/or workplace this winter season by (choose as many as you'll do):
Turning down the heat (between 1°C and 3°C)
Layering up in warm clothing
Taking shorter showers
Doing laundry in cold water
Commit to climate change action and/or awareness by: _____________________ (fill in your own action)
It's an anonymous pledge, but you can share your climate action efforts on social media! Use hashtag: #BCCoolCampus
You'll also have an opportunity to add your name (not connected to the pledge) to be added to a draw for some VIU warm wear (ware).
Questions/thoughts/insights?
Contact Margot Croft (Sustainability@viu.ca)
By participating in this initiative, you are positively contributing to UN Sustainable Development Goals 7, 11, 13