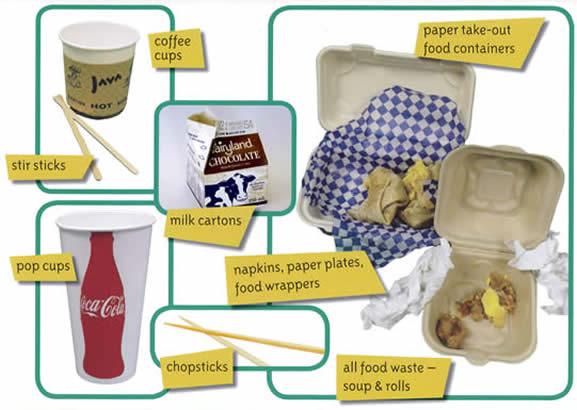 Composting
Where
Compostable items can be disposed of in washroom bins and marked bins in cafeterias. These bins are collected daily.
Some buildings have compost bins in kitchen areas/lunch rooms, and compost bins can also be found in meeting areas such as the Royal Arbutus Room and the Board Room. Look for them at your next event!
What
Acceptable items for compost include
food leftovers, plate scrapings
fruits & vegetables
meat, fish & poultry
bones
shellfish
soiled paper towels & napkins
used paper cups & plates

including Tim Horton's and Starbucks cups. Unsure? Tear the cup and look for plastic strands. If there are none, you're good to compost! :-)

dairy products
soiled wax paper
bread, pasta, baked goods
food-soiled cardboard & paper
tea bags, coffee grounds, filters
egg shells
wooden stir sticks
wooden chopsticks
cut & dried flowers
gum
compostable single-use cutlery from VIU Food Services
single-use take-away packaging from VIU Food Services (not the plastic containers)
Where does it go?
Bins are emptied daily and the compostable material is collected in larger bins beside B300. The material is then picked up by GFL Environmental and transported to a composting facility.