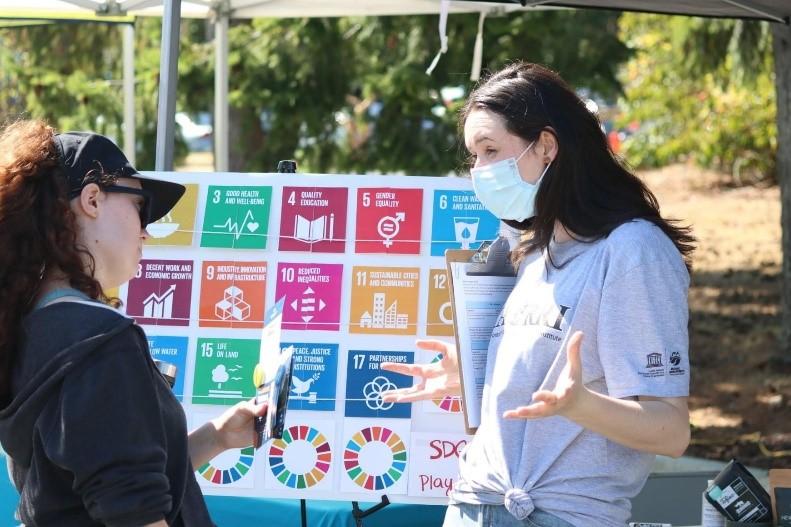 In 2018, VIU's Office of the President asked the Mount Arrowsmith Biosphere Region Research Institute (MABRRI) to study how VIU was meeting the United Nations' 17 Sustainable Development Goals (SDGs).
This project explored how sustainable development applied to a post-secondary institution, and how VIU was contributing to the advancement of the SDGs. By reviewing VIU's educational and research foci, policies, community engagement, infrastructure, services, and other initiatives, MABRRI produced a final report and a summary report highlighting VIU's contributions. A list of recommendations was also provided to VIU's Office of the President.
Since the completion of the project, VIU has made further strides supporting the SDGs by incorporating the SDGs in its 2021-2026 Strategic Plan and by establishing the President's Task Force on Climate Action and Sustainability.
In 2021, MABRRI received funding from the Government of Canada's Sustainable Development Goals Funding Program to continue advancing the SDGs at VIU. Throughout the year, MABRRI promoted the SDGs on campus and shared knowledge and resources to localize the SDGs. As part of this work and to highlight VIU's contributions to the SDGs, MABRRI partnered with the Swivel Project to produce a video series.
The Vancouver Island University and the SDGs video series shows the great work VIU is doing in alignment with the SDGs
These short videos each showcase a specific initiative or element of VIU that aligns with the SDGs.
This video series was developed as part of VIU's MABRRI's project, Universities and the SDGs, which was funded in part by the Government of Canada Sustainable Development Goals Funding Program.