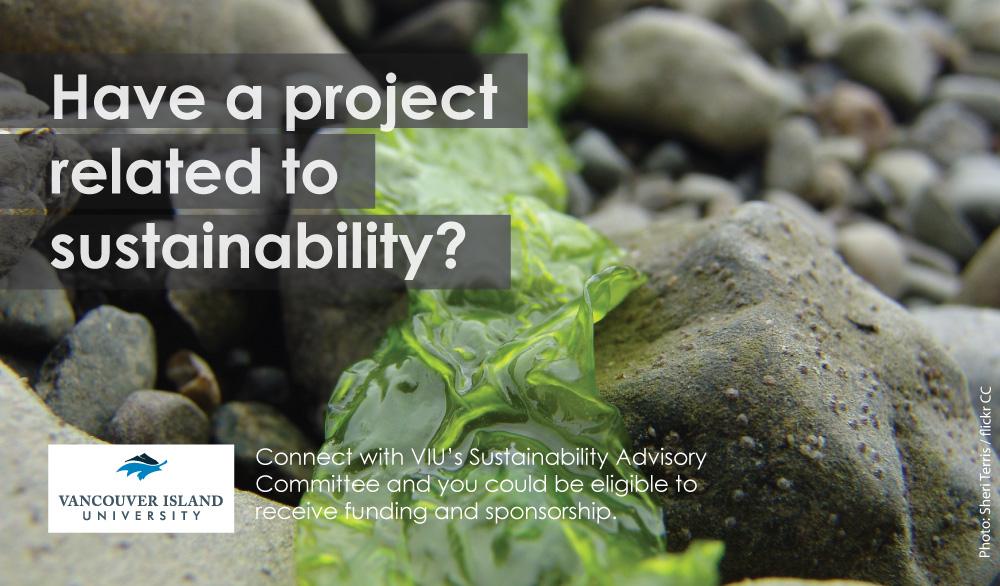 Everyone has great ideas to make VIU a more sustainable place
The Sustainability Advisory Committee can help you implement your idea by getting it formally approved, advising on possible funding sources, and connecting you with key internal players. An endorsed green project may be 'fast-tracked' for implementation, and could be reviewed multiple times a year.
What are sustainability project goals?
Sustainability projects/ideas/events are intended to foster sustainable action across the diverse VIU community. Your sustainable project should:
Offer unique opportunities for students to make our campuses and/or VIU Residences more sustainable
Encourage the VIU community to actively participate in social, environmental and economic sustainability
Connect sustainability to a diverse range of disciplines and interests
Not duplicate with existing initiatives
Have measurable outcomes
What does an endorsement look like?
As well as providing advice, internal approval and connections, some events/ideas/projects may require support from departments or areas. This support may include, but is not limited to such assistance as:
Copying/image reproduction
Classroom booking
Equipment booking (tent tops/tables/extension cords e.g.)
Videoconferencing
Website development aid
Connection with mentors
Promotion
Is there funding available?
An endorsement should not be centered only on funding.  If funds are necessary, funding may be considered for project-specific activities such as:
supplies
materials
advertising
behaviour change programs
contests and challenges
offsetting speaker/trainer fees and their travel expenses
educational events
bicycle clinics
conference attendance
Creativity and collaboration between students, staff, and faculty is encouraged. Projects should incorporate bias-balanced approaches and collaboration.  They should also lead to positive changes on our campuses. Strong applications will demonstrate how they help VIU be a more sustainable university community.
Eligibility
Registered undergraduate and graduate students (part and full-time)
VIU employee
Representative of a campus group
Applying
Applications are invited throughout the year.
Application Review is ongoing.
Your submission will be reviewed at the next scheduled Sustainability Advisory Committee meeting.
Applicants will be notified of the status of their application within a week of the review meeting.
Student applications not associated with a registered student organization may require a faculty sponsor. Faculty/staff applications may require a sponsor at the director or departmental chair level (or higher).
Download the Project Endorsement application (Word version) fill it out, and submit it to Sustainability@viu.ca or deliver hard copy to Margot Croft Building 305, Room 272.
Process
The Sustainability Advisory Committee will provide constructive feedback as appropriate. Applicants are encouraged to address feedback received and reapply where appropriate.
Applicants will be notified by email Decisions on endorsements are final and cannot be appealed.
Successful applicants will be required to produce a short report and pictures related to their project upon completion. Applicants may also be requested to participate in the creation of a story profiling their project.
Adjudication
Applications that clearly show a strong alignment to the following objectives are more likely to be successful.
Realistic timeline
Provide unique opportunities for students to make our campuses or wider community more sustainable.
Enhance sustainability on any campus, WSH, and/or enhance sustainability in the local community.
Encourage active participation in social, environmental and economic sustainability.
Connect sustainability to a diverse range of disciplines and interests
VIU would like to acknowledge that this program has borrowed heavily from SFU, UVic, and UofA.