Logos
Each download package contains a PDF and a JPG of the logo along with a PDF that outlines how to appropriately use the VIU logo. If you require a different file format or a less common variant of VIU's logo, please contact the Strategic Marketing department. 
CMYK logos (for printed products)
RGB logos (for digital use)
Logos for email signatures
These download packages contain a PNG logo file along with a copy of each the Logo Quick Guide and the Email Signature Quick Guide.
Testimonial Forms
Waivers
Brand Standards
Guides
Background Images for Zoom
VIU Letterhead
PowerPoint Templates
Briefing Notes
Marketing Partners
VIU Fact Sheet
Computer and Phone Wallpapers
The Stairs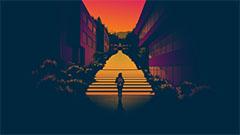 4096 x 2304 | 2048 x 1152 | 1920 x 1080
1280 x 1024 |  1080 x 1920 | 1024 x 768
Abstract Wallpaper 1
4096 x 2304 |  2048 x 1152 |  1920 x 1080
1280 x 1024 |  1080 x 1920 |  1024 x 768