The purpose of the program review is for faculty/staff to reflect on the current conditions and outcomes of their program in order to inform and set future direction. Throughout the review process, faculty/staff examine strengths and areas for growth, identify desired improvements, set goals, and develop strategies to achieve them. The program review process at VIU is faculty-driven, evidence-based, and self-reflective. Faculty/staff responsible for delivering the program have the opportunity to make the largest and most meaningful contribution to the program review process.
All public post-secondary institutions in British Columbia are required to establish policies and procedures for reviewing programs, as per The University Act (Section 35.2 (6)). Requirements for regular and systematic review and assessment of programs and departments at VIU are outlined in Policy 31.15: Educational Quality Assurance. This policy aligns with, and is largely derived from, criteria established by the Degree Quality Assessment Board (DQAB). Information specific to Program Review is detailed in Procedure 31.15.002: Program Review.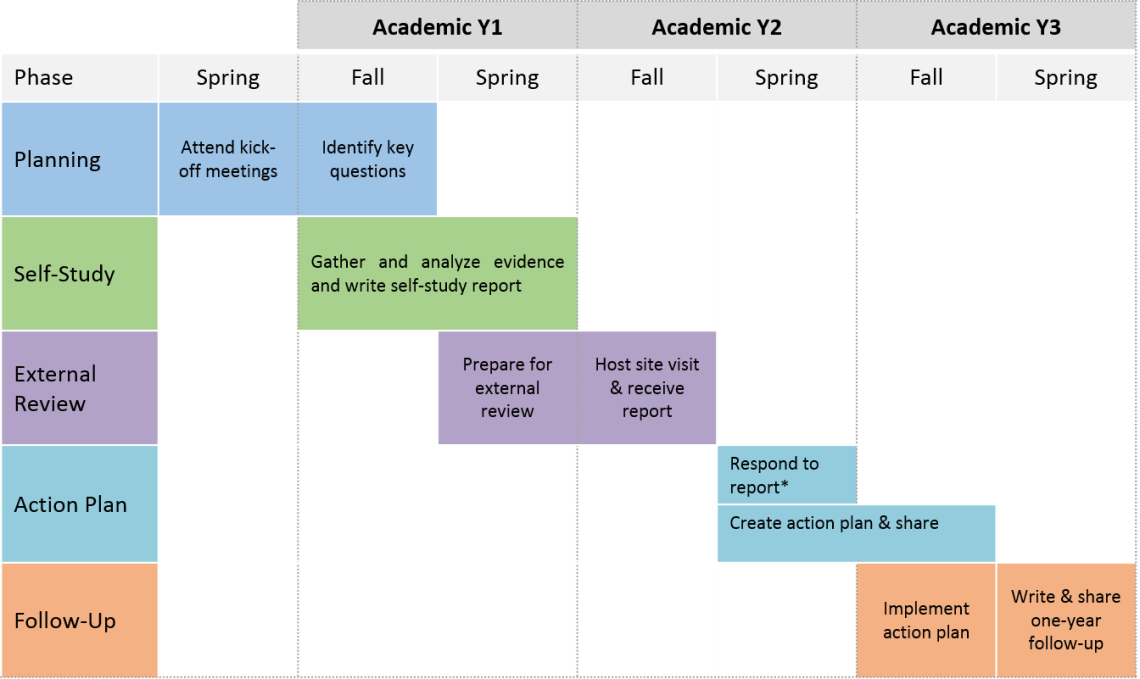 *The Office of Provost may choose to provide an institutional response to the external review report. The decision to provide a formal response is at the discretion of the Associate Vice-President, Academic in consultation with the respective Dean, Faculty members, and OUPA.
Office of University Planning and Analysis (OUPA)
OUPA assists with the overall process by facilitating an orientation session, preparing and sharing tools and existing data, collecting and analyzing new data, and coordinating the External Review process. Please contact the Program Review Analyst  if you have any questions.
Centre for Innovation and Excellence in Learning (CIEL)
Given the context of VIU as a teaching-intensive university, a key focus of program review is on teaching and learning practices. CIEL is available to help you dive deeper into the teaching and learning component of Phase II: Self-study. The Centre developed a series of resources, which include the following:
Program reviews are designed to describe and examine a range of characteristics. The following criteria for program review and assessment are outlined in the Degree Program Review: Criteria and Guidelines from the Ministry of Advanced Education, Skills and Training:
Alignment of structure, admissions requirements, method of delivery, and curriculum with the program's learning outcomes and standards;
Effective use of resources (physical, technological, financial, and human);
Quality of teaching and supervision and demonstrable currency in the field of specialization;
Coherency of achieved learning outcomes with program's stated goals, the degree level standard, and where appropriate, the standards of any related regulatory, accrediting, or professional association;
Adequacy of methods used for student assessment and evaluation;
Satisfaction of stakeholder groups (e.g., current students, graduates, employers);
Graduate outcomes (e.g., employment rates, graduation rate);
Alignment with and contribution to institutional mandate, core values, and objectives.