Facts online is a resource created by the Office of University Planning and Analysis (OUPA) in order to answer questions about Vancouver Island University, its students, staff, and facilities. These interactive dashboards were created to be easy to browse and answer most questions that may arise. General sections are listed below and each contain more in-depth sub-categories related to the topic.
All information presented is updated at the beginning of each Academic Year (which runs September 1 to August 31).
To view each dashboard, click on the corresponding thumbnail on the right side of the page. If you have any questions, please contact OUPA.
PLEASE NOTE: All dashboards should be opened in Chrome or Firefox. They are currently incompatible with Internet Explorer.
In this section you will find cost of attendance for domestic and international students. It includes fees for university level programs that are credit-based, as well as trades and apprenticeship programs. It also shows average student financial aid by type and the total number of students receiving financial aid by academic year.
Utilizing five year's worth of data, this section includes information on all students attending the University and is broken out to include overall VIU demographics, including gender, age, Aboriginal students, International students, and New & Continuing students, as well sub-sections by Faculty and Campus. It includes a section on the countries of origin of International students.
This ten year model shows retention rates on multi-year programs offered at VIU for first-to-second year students, as well as graduation rates in four, five, and six years. It illustrates the completion rates by academic year and major program, as well as credentials awarded.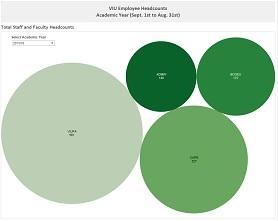 An overview of staff and faculty members by instructional, non-instructional and gender. Head counts by bargaining group are also included.
Details budgeted revenue and expenditures over the last five Fiscal Years as well as grants and bursaries that went directly to students. Includes links to the Scholarship, Research, and Creative Activity page for more detailed information.